About Us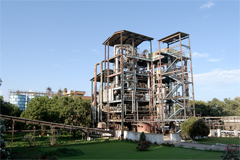 SAKTHI SOYAS is part of well known SAKTHI GROUP - a popular name in Southern India that has multifarious business activities including Sugar, SG Iron foundry, Industrial Alcohol, Textiles, Transport, Finance, Dairy, Coffee Estates and Soya processing.

The Tamil Nadu Industrial Development Corporation (TIDCO) and Sakthi Sugars Ltd. Chairman Dr.N.Mahalingam jointly formed Sakthi Soyas Limited in 1986.  Based on their effort, Soybean Processing Complex was set up in 1989 at Marchinaickenpalayam, Ambarampalayam Post - Pollachi, Tamilnadu, which later was merged with Sakthi Sugars Ltd. as it's 'Soya Division'. This is the only soybean processing plant in Southern India which intergrates the world's best technologies to process soybean and produces value added products. The manufacturing facilities are constructed on  70 acres of land comprising The Seed Preparation Plant (Buhler Brothers, Switzerland), Solvent Extraction Plant facilitated with Flash Desolventizer (Extechnik, Germany), Oil Refinery (Westfalia and Extechnik, Germany and Ama Filters, Holland), Flour Milling Plant and Texturized Soya Protein Plant.

The Soya products manufactured by Sakthi Soyas have wide applications in confectionery, baking, pharmaceuticals and downstream products such as protein isolate, protein concentrates, etc. Alongside having a good reputation for product quality, the products are being exported to many countries. The Texturised Soy products under the brand name "Soya Sakthi", is the first product of its kind to have the license to use the ISI quality mark from the Bureau of Indian Standards. "Soya Sakthi" is a widely acclaimed food nourisher among the south Indian populace.

Sakthi Soyas is also engaged in crop developmental work like soybean variety trials, seed multiplication and seed based agronomy, entomology and plant pathology experiments. The Biometric observations are made with statistical analysis. We have a modern seed processing unit to supply high quality Soya Seeds for sowing purposes.