Soya Cutlet
>>
Chinese Recipes
>>
Home
Soya Cutlet
Ingredients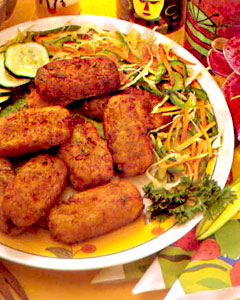 | | |
| --- | --- |
| Soy granules | 100 gm |
| Potatoes | 2 |
| Breadcrumbs | 115 gm |
| Coriander seeds | 1 tsp |
| Ginger paste | 2 tsp |
| Garlic paste | 2 tsp |
| Green chillies | To taste |
| Red chilli powder | To taste |
| Coriander powder | 2 tsp |
| Turmeric powder | A pinch |
| Soy refined oil | For deep frying |
| Salt | To taste |
Method
Soak soy granules in warm water for 15 minutes and squeeze out excess water. Boil potatoes, peel and mash them. Wash and chop green chillies.
Heat 2 tsp oil, add coriander seeds after 30 seconds add ginger paste, garlic paste, chopped green chillies and stir for a minute. Add red chilli powder, turmeric powder while stirring continuously. Add soy granules, cook till granules are cooked and dry.
Add mashed potato, salt and continue cooking till the mixture completely dries up. Remove from flame and cool it. Mix well with bread crumbs. Divide into small equal portions, give each portion a cutlet shape and deep fry in oil until crisp. Serve hot.