Soya Samosa
Ingredients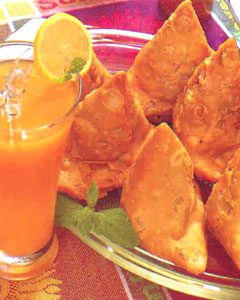 | | |
| --- | --- |
| Soy granules | 50 gm |
| Potatoes | 2 |
| Cumin seeds | 1 tsp |
| Ginger paste | 2 tsp |
| Garlic paste | 2 tsp |
| Green chillies chopped | To taste |
| Red chilli powder | To taste |
| Coriander powder | 1 tsp |
| Chaat masala | 2 tsp |
| Refined wheat flour | 250 gm |
| Ghee | 2 tbsp |
| Ajwain | 1 tsp |
| Soy refined Oil | For deep frying |
| Salt | To taste |
Method
Soak granules in warm water for 15 minutes and squeeze out excess water. Boil, peel and mash potatoes. Knead a firm dough with refined wheat flour, ghee, ajwain and salt. Cover the dough with a damp cloth and keep aside.
Heat 2 tsp oil in a pan, add cumin seeds, after a few seconds add ginger paste, garlic paste, green chillies, red chilli powder, coriander powder, salt and chaat masala. Mix well, add soy granules and mashed potatoes, cook till done.
Divide dough into small portions. Roll out each portion into oval shape and cut into half. Hold the half in left hand, make a cone, put stuffing into it. seal the edges with water by pressing. Deep fry in hot oil till golden brown in colour.