Soybean Soup
>>
Chinese Recipes
>>
Home
Soybean Soup
Ingredients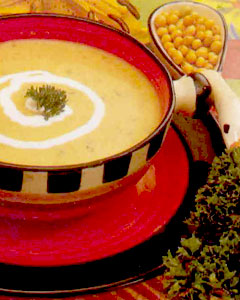 | | |
| --- | --- |
| Soybeans, whole | 200 gm |
| Onions | 2 |
| Carrots | 2 |
| Garlic, crushed | 2 cloves |
| Red chilli powder | To taste |
| Cumin powder | 1 tsp |
| Pepper powder | To taste |
| Salt | To taste |
| Coriander leaves | 1 tbsp |
| Soy refined oil | 1 tbsp |
Method
Soak soybeans overnight, drain water and boil (or pressure cook) till the beans are soft. Keep aside. Finely chop onions, carrots and coriander leaves.
Heat oil in a pan, stir-fry onions, carrots in oil till soft. Add crushed garlic cloves, red chilli powder and cumin powder. Stir for a minute and add the cooked beans. Add sufficient amount of water and bring to a boil. Allow beans to simmer, covered for 30 minutes. Stir occasionally.
Cool and puree the soup in a blender to a desired consistency. Season with pepper powder and salt. Add coriander leaves and serve garnished with a swirl of cream.