Soya Pouch
Ingredients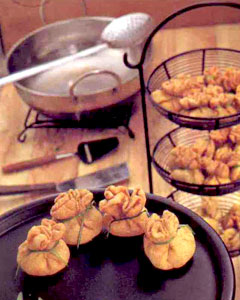 | | |
| --- | --- |
| Soy granules | 100 gm |
| Onion | 1 |
| Ginger paste | 1/2 tsp |
| Garlic paste | 1/2 tsp |
| Red chilli powder | To taste |
| Garam masala | 1/2 tsp |
| Coriander leaves | 1 tbsp |
| Refined wheat flour | 200 gm |
| Semolina | 4 tbsp |
| Ghee | 2 tbsp |
| Soy refined oil | For deep frying |
| Salt | To taste |
Method
Mix refined wheat flour, semolina, salt and ghee. Add sufficient water, make a smooth dough, cover with a damp cloth and keep aside. Soak soy granules in warm water 15 minutes and squeeze out excess water. Finely chop onion and coriander leaves.
Heat 2 tbsp oil in a pan, add chopped onion, ginger paste and garlic paste. Cook till the onions turn light brown in colour and add soaked granules. Add red chilli powder, salt, garam masala and stir-fry till the granules are cooked. Add coriander leaves and cook till the mixture is almost dry.
Divide the dough into 12 equal portions and roll out into puri's of 3 inches diameter. Place about 2 tsp of the granule mixture in the center of the puri. Apply a little water just inside the edges of the puri. Lift the edges and press together firmly to form a pouch.
Deep fry in hot oil till golden brown in colour. Serve hot with green chutney.